In our efforts to make the most of the sunshine and do some new things, last Thursday the boy and I decided to venture to the New Forest. In case you don't know, the New Forest is a National Park in the South of England, famous for its wild horses that roam throughout.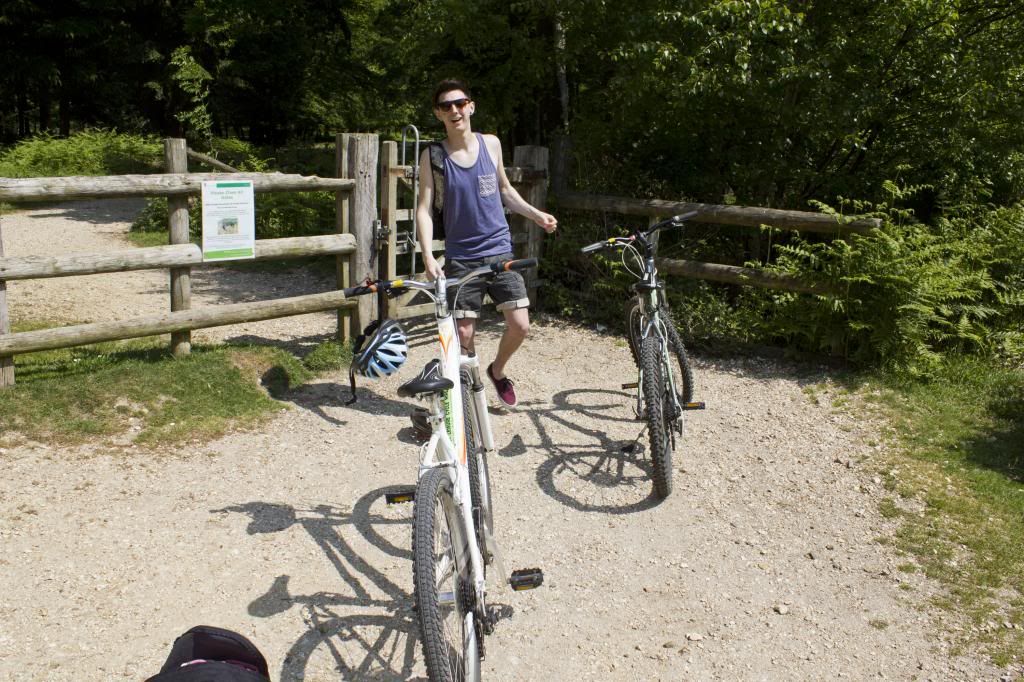 We were given the idea of bike riding by Trip Advisor. I googled (as you do) top things to do in Hampshire. You can find the list that I found here, if you need inspiring too! Number 25 on the list was Forest Leisure Cycling in Burley. As a child I visited the New Forest most years with my family and we always went to Burley. Its an adorable little village, and as I know the place fairly well and remember the cycling shop, I thought it would be a good bet for us to go there. So we checked the weather to see which would be the best day, and then early on Thursday morning we headed over to Burley.
They have a range of different bikes that you can choose from but we just went for the basic £16 bikes. The price includes bike hire for the day, a helmet, bike locks, a puncture repair kit and a rucksack if you need it. They also ask you if you would like a route to follow, we chose "The Deer Sanctuary" which is 12-18 miles (depending on which parts of it you complete). They then give you a little map with very simple to follow instructions and send you on your way.
It was such a warm day that we made several stops along the way. Above is the first stop we made at a Canadian War Memorial. I wore a t-shirt from H&M, shorts from River Island, and my trusty Converse. This was not a day for outfit posing, so I went with comfort and practicality!

One of our other stops was at Bolderwood, a lovely parking spot for picnic-ers and such like.

We decided to get some ice creams to cool off, and they were so good! I had mint chocolate chop and raspberry ripple meringue, while the boy had chocolate and millionaires shortcake.
The boy laid down for a little sunbathe and relax while I had a wander around to see what was about. There is a big open grass area, with a large parking area, toilets, picnic benches in the wooded areas, access to a viewing area for the Deer Sanctuary, and a seasonal ice cream truck. I would definitely recommend it as a stop over area in the New Forest because you really feel properly away from anything but the forest and it has some useful amenities there.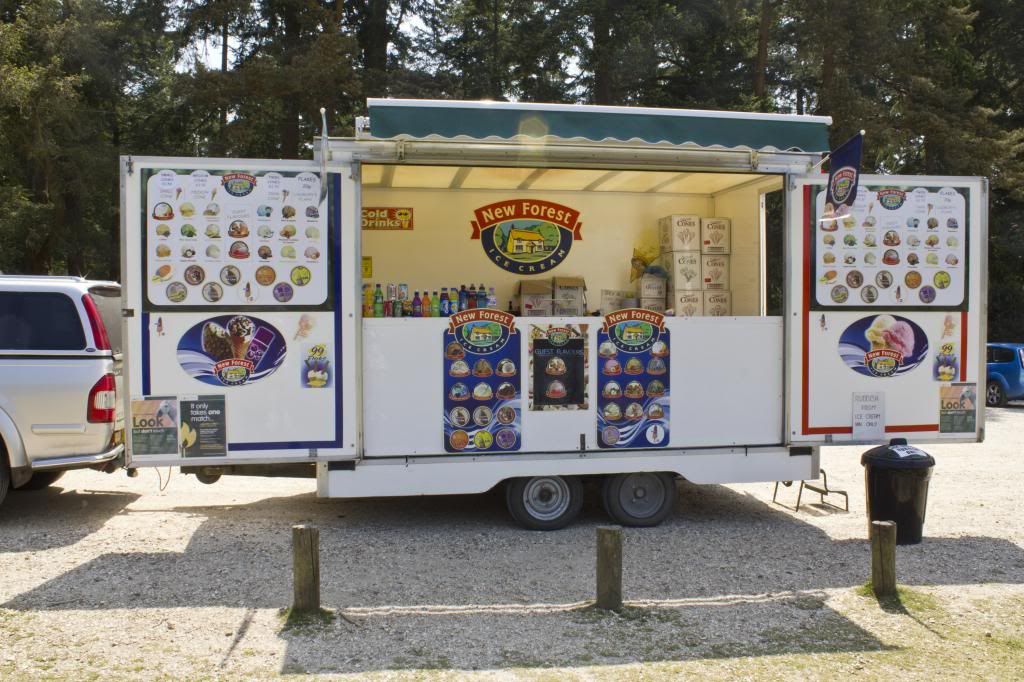 The truck is mostly own-brand New Forest ice cream which I love.

They have a great range of flavours available, as well as cold drinks. Just make sure you've got some cash as I'm not sure if they take cards.
After that stop over we cycled what felt like miles, heading for a pub named on our map. Just as we were about to give up and turn back, we finally saw it! So we collapsed onto their outside tables for some rest and a drink.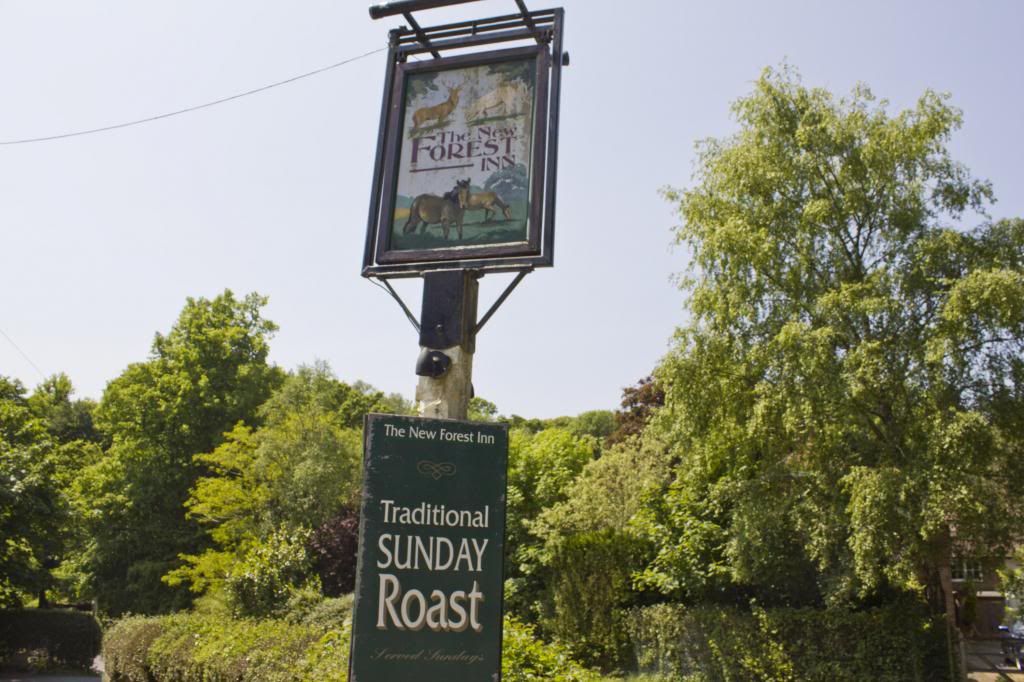 The pub was called The New Forest Inn and is 1 mile away from Lyndhurst, another popular New Forest destination.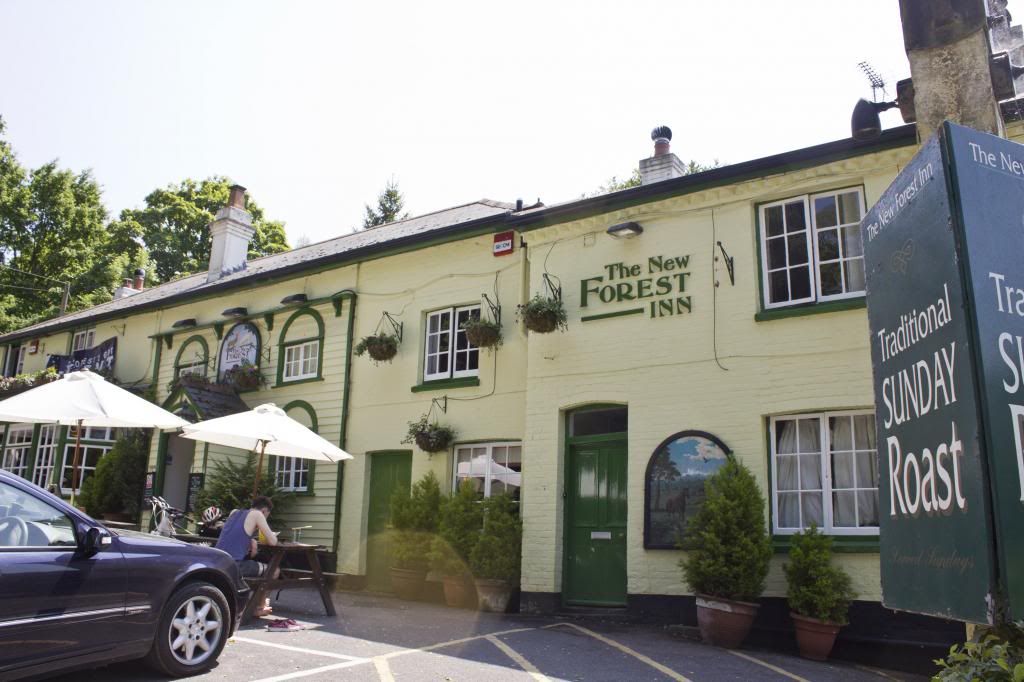 Derp face-ing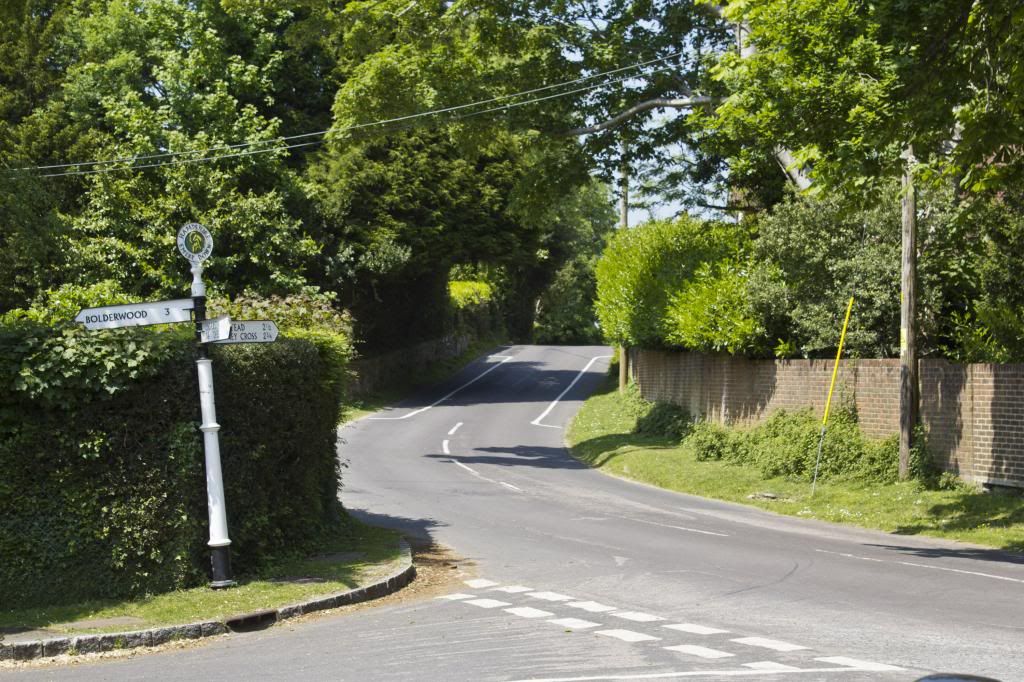 Its a really nice old English country pub with a large area for eating and a nice beer garden out the back. So if you're in the area it might be worth checking out 🙂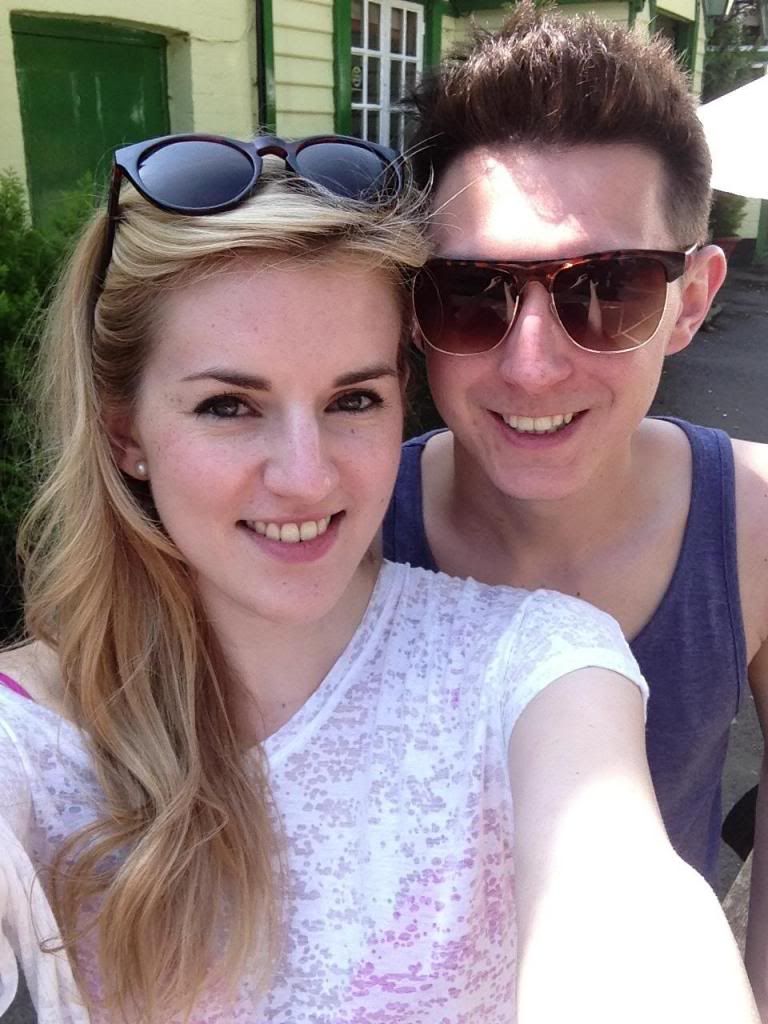 After our quick stop we got back on our bikes and set off again. Legs and bums were in agony by this point! The route we chose took us on a mixture of different paths, some parts were gravel tracks through the forest, while other parts were on the ordinary roads. We found it quite safe to ride on the roads as there were minimal amounts of cars, and I think most roads are 40mph limits.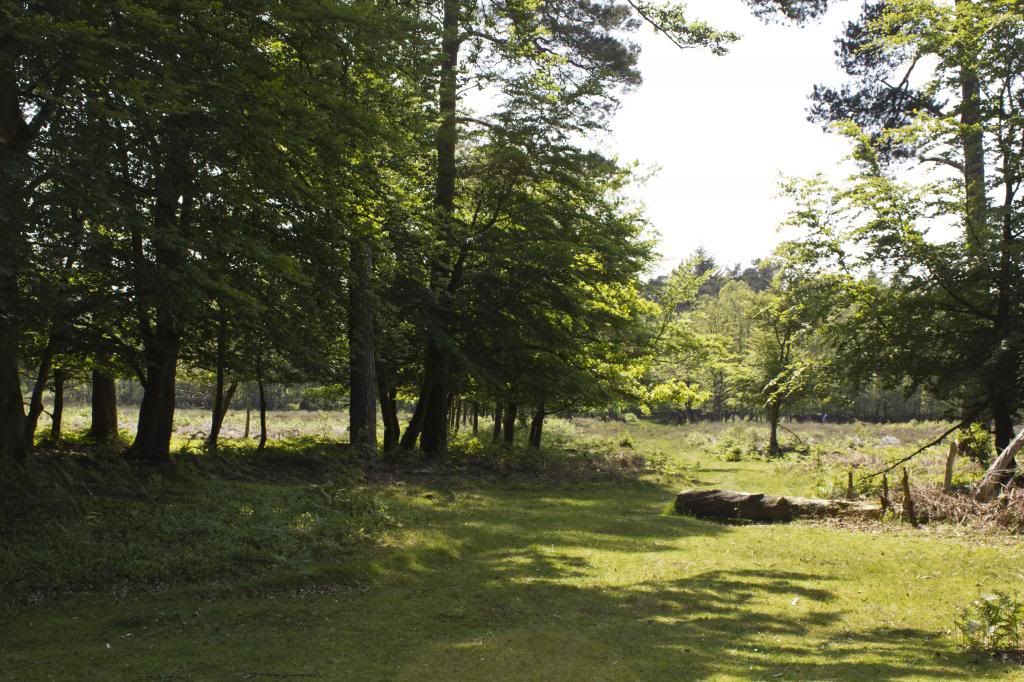 Its just so gorgeous in the New Forest, especially in the sunshine. I think I need to start coming back every year like I used to.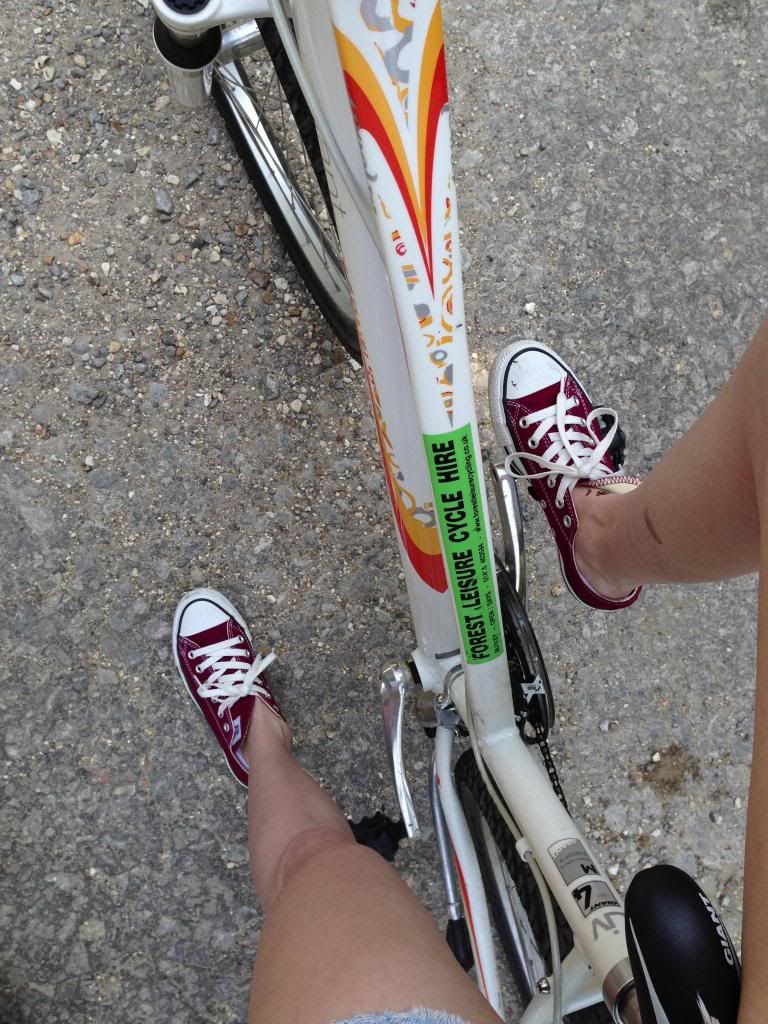 I managed to get dirt all over my shoes and my legs somehow, as my nan would say, I'm a mucky pup!
We spotted some of the New Forest wild horses on our travels. You can get quite close to them because they're so used to people being around them. Just don't feed them or pester them! Even if you can get close it doesn't mean they are tame.
Finally we arrived back in Burley after around 5 hours out on our bikes. This is the place where we hired our bikes from. The other upside of hiring from here is that you can park for free just up the road so you don't need to worry about paying out for that.

Burley also have horse drawn wagon rides, I loved going on these as a kid so I would highly recommend going on this! Its a real back to basics little adventure through the forest.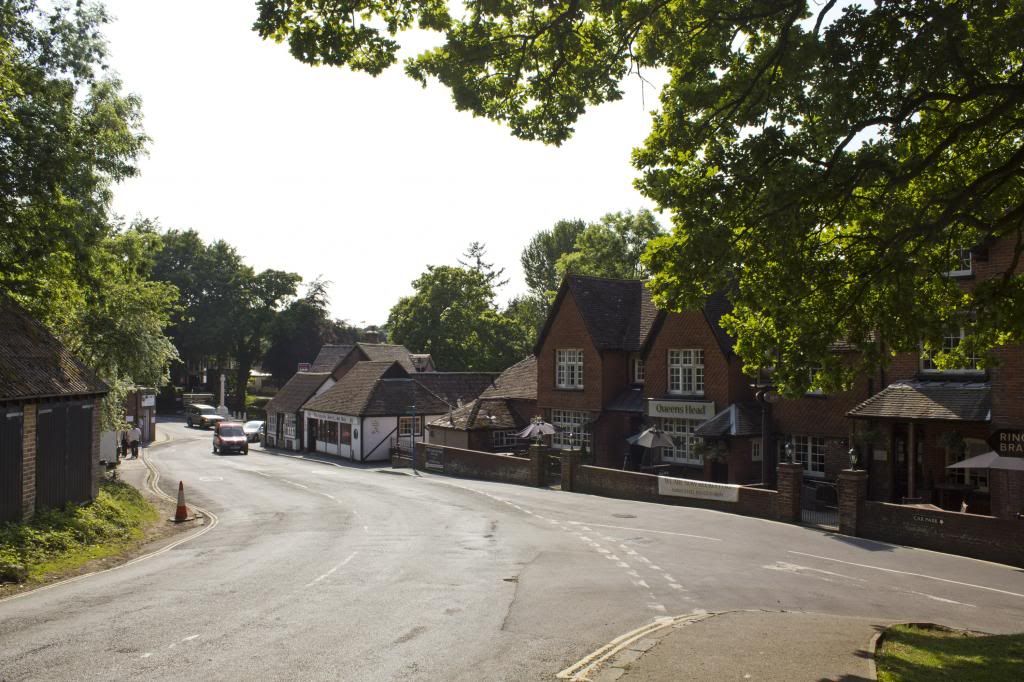 This is the view down into the top of Burley from the hill where you can park at the top of. The pub shown is a great little place to eat and have a drink, is where you can pick up the wagon rides from, and sometimes the ponies are even wandering around in its car park. So its a winner all round. Its called the Queen's Head.
Overall I had one of the most fun days ever. We were lucky with great weather but it was also just a great laugh, and we saw some amazing scenery. You tend to forget the beautiful outdoors you can find in the UK. I was really pleased with the bikes and the price, and the map we were given so I would definitely recommend hiring from Forest Leisure Cycling if you're looking to do so. You can even hire a dog trailer for your bike too if you fancy taking your pooch along for the trip! At the end of the day my legs and bum were devastated but it was all worth it!
If you're thinking of doing anything like this then I'd say get out there and do it! Carpe diem! (as my mum would say).