*A Suit for Graduation.
On Friday last week me and the boy headed up to London to get him a suit for graduation. As Topman currently have their 20% Student offer on, we thought it would be a good idea for him to get one now. So we jumped on the train on Friday morning London bound.
The first mishap of the day was that as I wasn't thinking of going to London this week, I didn't take my railcard or my oyster card to the boy's house. Meaning that my ticket cost me around £45! I couldn't believe it! I don't know how people without railcards afford to go on the train anymore. So begrudgingly I paid for the ridiculously overpriced ticket and we set off.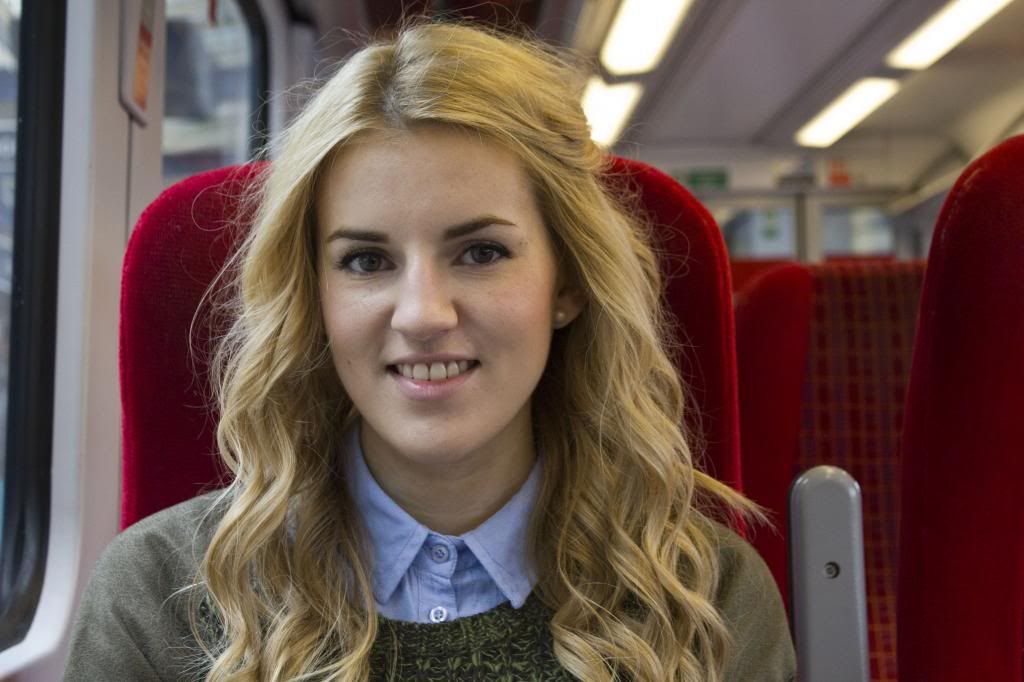 Here's my face, smiling through the pain of the ticket price 😉
In general, the boy is useless to travel on the train with, case in point shown above. He always falls asleep and I'm sat there alone for an hour and a half looking out the window in silence, such a good travel partner! ha. Is it just mine that does this or do other people's boyfriends fall asleep on the train and leave them lonely?
Last year we went to Topman on Oxford Street and we probably spent about 3 hours in the changing rooms while he ummed and ahhed over 2 suits for a family wedding. So this time I had a bright idea to save me from this fate again, Topman Personal Shopping. Someone else advising him what to wear and a much more comfortable setting. His indecisiveness is a killer I tell you! So we booked him an appointment for Topman Personal Shopping. The one thing I would advise is to ring them up rather than emailing as I initially tried to do, as their replies are not very quick, whereas if you phone up you can book immediately. The service is free and resides on the very top floor of the store on Oxford Street.
It's a nice little area with comfy sofas and a big TV. There are also magazines for you to browse through, and free soft drinks. Its a good place to escape from the sometimes crazily busy Topman/Topshop store, it feels like a quiet relaxed place to shop. I can't remember the name of the guy who helped Luke but he was lovely and really helpful. Anything else the boy wanted to try on he went and found for him and gave some great advice about what he think looked good and worked well together. All of the staff in there seemed really nice and friendly. I would definitely recommend it if you want a bit of help finding some new clothes to update your wardrobe or for a special occasion, you can find more info on the Topman website here. Or you can book an appointment if like me you simply need help with an indecisive boyfriend 😉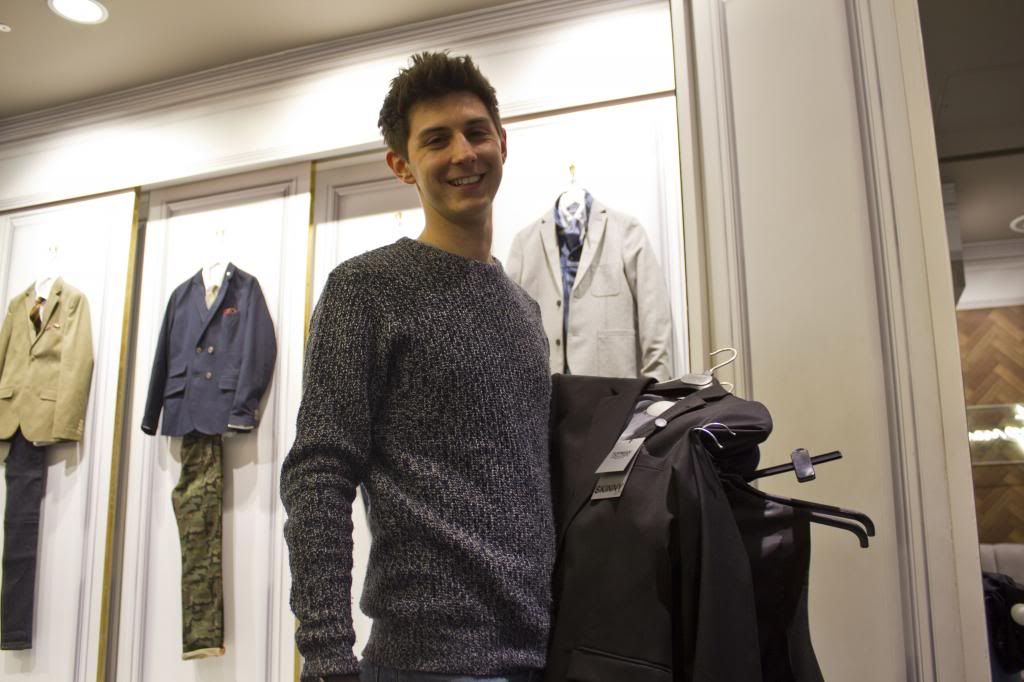 Here is proof of his indecisiveness, he bought both suits so he can ponder more at home and then take one back. Its probably such hard work being inside his head! haha. He brought home a black suit and a navy suit, the only con of the navy is that the suit he bought last year was navy. I bet we will be trying to decide over the next couple of weeks until it comes to the latest day to take it back!
He then decided to try on some shoes so I thought I would go off on my own and try some things on myself. The one thing I found and quite liked was this TFNC dress. I'm searching for a Grad Ball dress and this was the only thing I liked all day so I thought I'd give it a try. I liked it but it was far too long because I'm quite short, and it's black. I would say 90% of my going-out dresses are black, I'm drawn to them like a moth to a flame. So for this ball I think I should branch out and wear a bit of colour, being that it will be summer and all. So my quest for a dress continues, I currently have this idea that I'm going to design and make my own, how feasible that is I do not know. But we shall see!
The second mishap of the day was my shoes (seen above). Flat pumps + lots of rain = soaking wet, numb feet. I literally was hobbling by half way through the day because I couldn't feel my feet. My shoes were squelching and felt like puddles. It was horrible. So we managed to get to Primark and buy some new tights, socks and shoes. I went for a more rain appropriate option of converse type shoes. However as many people will know, the queue for the changing rooms in Oxford Street Primark go on for days. I was not willing to wait in this queue, or take my shorts and tights off in the middle of the shop to change into the new tights and shoes, that would be far too much for anyone to see! So instead I dipped into the next shop I came across on the Primark side of the road (Urban Outfitters) and took some items to the changing room so I could change my tights and shoes.
While I was in there I stopped to take a couple of outfit photos, you know, as you do! I then changed into my new shoes (seen above) and almost skipped out of the changing rooms, I felt like I was floating on air after the cold wet terror of the other shoes haha.

Took a couple more photos too ;). Jumper – ASOS. Shirt – Topshop. Shorts – Hollister.
We went to Pizza Hut for dinner but there wasn't much to photograph there, and pretty rubbish service too, so instead heres how squished in we were with the suits on the train home.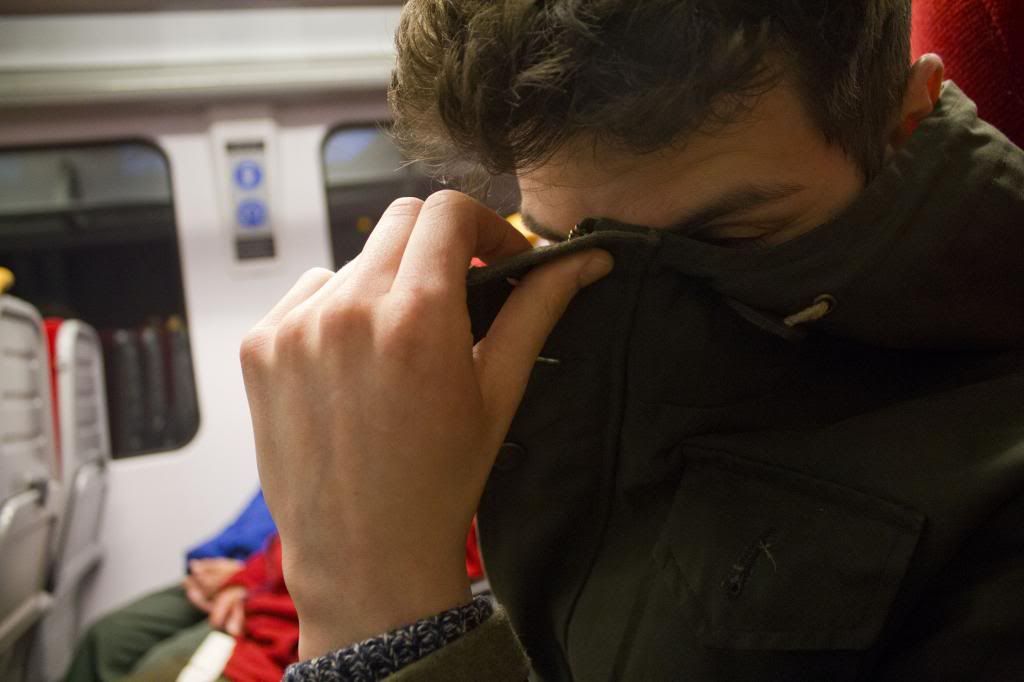 He wasn't ready for his close up Mr DeMille 😉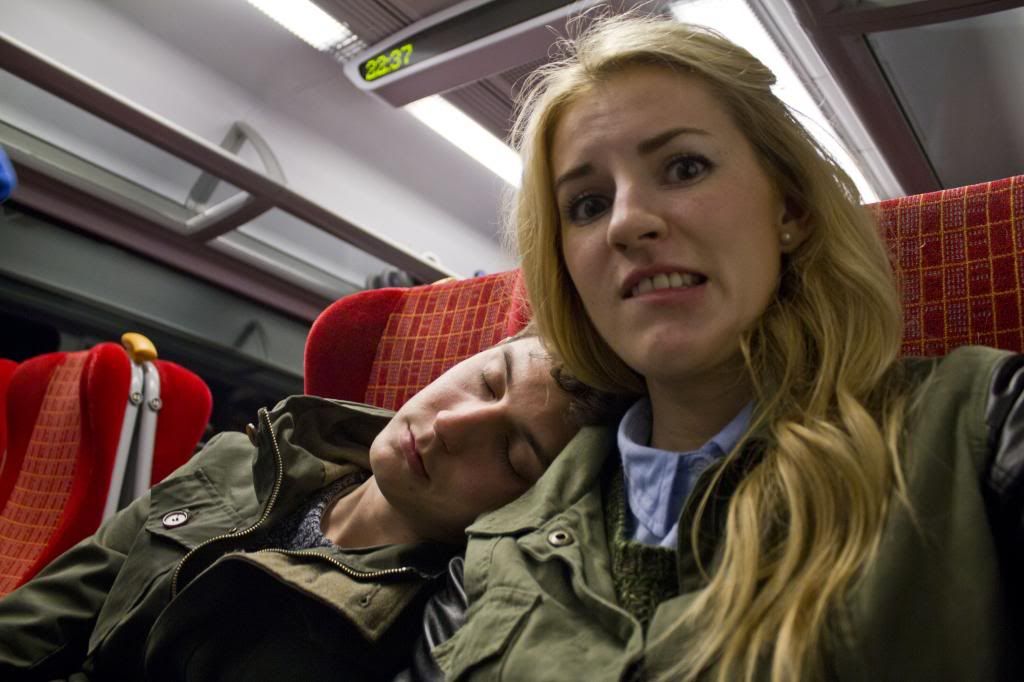 And once again he fell asleep and left me lonely on the train so I had to take a few photos to entertain myself.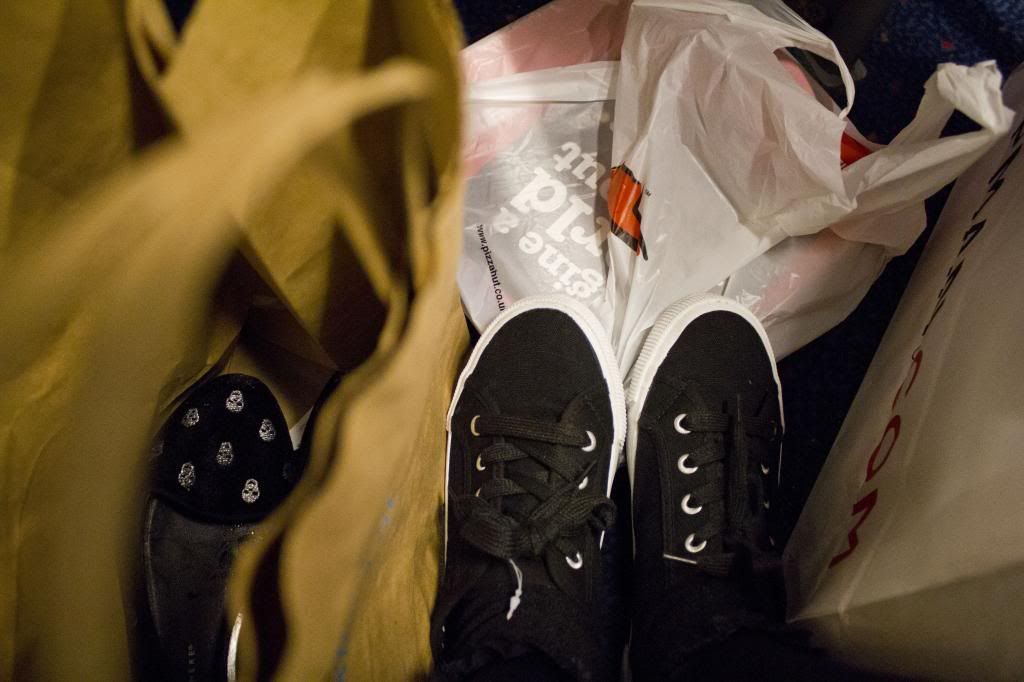 The soaking wet shoes discarded in the bag and my new ones cosy on my feet. We also took half of our pizza home in a box, we always do this but never actually eat it once we get home. Does anyone else do this too? Just to make it look better to the waiter when they ask?
These were my two purchases of the day. The Pixi Glow Tonic which I had to make mine since its seal of approval from Caroline Hirons and the fact that I had seen on Twitter that it was in stock in the Carnaby Street store. And a Topman shirt I've been lusting over for a while, I feel like the rounded collar makes it more girly than a mens piece of clothing. The 20% Student offer swayed me to buy it finally.
And that is the end of my ridiculously long and wordy post. I'd better go now, starting to look up sun holidays in Greece/Cyprus with the boy and he's getting annoyed that I'm not helping ;). Hope you've had a good Bank Holiday if you're in the UK!
p.s. please tell me I'm not the only one who sings the Heat magazine song almost every time they go to London! haha