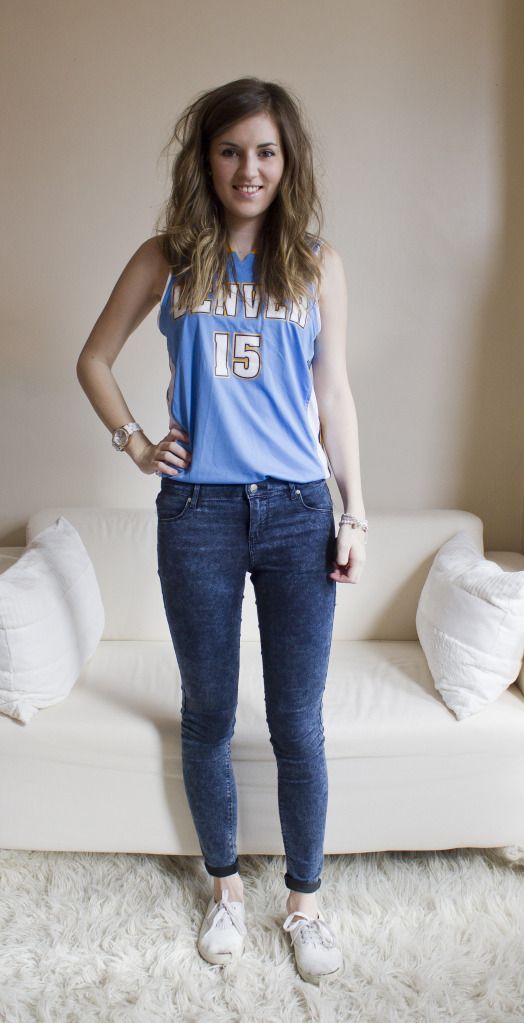 Jersey: Adidas
Jeans: Topshop Leigh jeans
Shoes: Topshop
Watch: Argos
I wore this outfit the other day to the boyf's house, and I really love it. This is one of 2 basketball jerseys that the boyf got me from work for a bargainous £4.20 each! They're boys age 12 but who cares! They fit and I love them. When I go to New York in June I really want to get a Knicks jersey too.
I'm writing this post in advance so when it publishes I will be climbing through the trees for my cousin's hen do at
Go Ape
. I'm really excited to do it, I did something similar when I was about 13/14 in France so hopefully this one will be just as good! I also hope the weather isn't too bad because climbing through the trees in the pouring down rain will not be the best of fun.
Even though I've only just finished uni I have got a manic few weeks ahead of me so my blogging might be a bit rubbish for the next few weeks. I'll just have to make sure I set aside time to do it so I don't forget. Also, I'll need to find somewhere new to do my outfit photos because I won't have my trusty background anymore because I'll be back at home for summer instead of in my uni room. Maybe I'll have to persuade my mum and the boyf to take my pictures for me over the summer months :)